Thursday, December 16, 2010
No, actually this is...

Posted by

Calvin Smooth
at 7:46 PM
No comments:

Posted by

Calvin Smooth
at 7:39 PM
1 comment:

Wednesday, December 8, 2010
Well, Well, Well, we come to the close of another year. These things are really pointless, but it's time to make my list of my 10 favorite albums this year, mostly because I like making lists.


10. Have One on Me-Joanna Newsome
I liked the scope of this a lot. It takes patience to really listen to the whole thing, but it pays off, because she is constantly recalling bits of melody through it all. I bought the record on vinyl in Washington DC on my honeymoon and am still discovering new easter eggs in the songs. And I think the closer on the record is amazingly beautiful.

9. Sit Down Man-Das Racist
Shut up man and let me tell you why Das Racist is awesome. They are one of the very few rap groups that are talented, yet don't care if you take them seriously or not. I get that word thrown at me sometimes, I'm talking about "novelty". People love to call anything funny or too self-aware "novelty rap". Kanye and Lil' Wayne make jokes in their stuff too, but he's not joke rap is he? It all has to do with the perception of somebody being "cool". For some reason they escape the novelty boundary and I'm not so sure why. Anyways, Das Racist is above the game, because people can't figure out what to label them as. They will have something that bangs harder than most with some serious MC on the track and they will keep up, and then they will have something less serious on the next track that makes you wonder what they are trying to be. And that's awesome, because they have somehow made it impossible to define them. I say though, that they rap with the best of them and are doing important work in stretching the genre.

8. Bells and the Floating World-Serengeti
Serengeti is slowly becoming my favorite rapper. He is a bit of a workaholic, this year he had three projects come out, but this one is really just a remix and addition to last year's excellent Terradactyl. Polyphonic's production is lush and dreamy and probably near impossible to rap traditionally over. This is a challenge that Serengeti embraces whole-heartedly, following his stream of consciousness wherever the blips and arpeggiated electronics lead him. This to me is another pioneering move in hip-hop.

7. The Arch Android- Janelle Monae
The Arch Android is the first I have heard of Janelle Monae and a very strong showing. If Serengeti and Das Racist are expanding the borders of their art forms, Janelle Monae is going back to it's funk and soul roots. Critic's have described this album as cinematic. I will have to admit, I can't follow any sort of story that she claims is behind the album, but the songs blend well into each other in a way that scenes in a movie do.

6. Winter of Mixed Drinks-Frightened Rabbit
I saw Frightened Rabbit about 3 years ago opening for Pinback and didn't think much of them. Since then they have released 2 albums that are classic in my book. Although I tend to prefer Midnight Organ Fight, Winter of Mixed Drinks is not really a step in the wrong direction. The songs are still very catchy and the lyrics are well written. The big difference is that the subject matter is not as hard hitting, but I am glad they are not writing the same album over and over again. Check these guys out.

5. My Beautiful Dark Twisted Fantasy-Kanye West
10 stars? No way. Awesome? For sure. The production is so good on this album, but what kind of freaks me out is the vocals. A lot of the time, it's like he is just trailing out and doesn't feel like finishing the verse all that strongly. And some of the lines are just ridiculous. But I'm not saying that's a bad thing. I am actually impressed, because it seems like he was more concerned with making his voice an instrument this time around, it blends so well with the track itself. Kanye is not Sinatra anymore, it's almost like he's a male diva. Plus the twitter is great.

4. High Violet-The National
Like every National album, I feel like this one is a grower. So who knows, maybe in time it will grow itself even higher on the list. Having already had some time to process it, I think that the album shows them refining their sound to a definite, whereas the previous two albums found them stumbling upon it.

3. Situation on the Home front-Grimm Teachaz
Maybe a little high on the list? Sure. But maybe not high enough. I am obsessed with this project. Two highly talented and maybe partially insane rappers decided to make a whole album as characters from a quick sketch on a different album. The result is a bizarre throwback to early 90's underground hip-hop. It's like listening to the energy of Wu-tang. They make up words, throw in bizarre references, and pretty much abandon all conventional wisdom to make this thing. Not only did I laugh my head off when I first heard this, but I ranted and raved about it to my friends for about a month and couldn't stop imitating Serengeti's character, which is a Chicagoan white guy a la snl "da bears" who somehow raps hard. This is not a new character for Geti, but the way in which he is used is the best yet. Favorite Line from the album? "We the teachaz, our legacy don't end. You Mister Rogers. You pretend. You lady Elaine. I'm crazy insane."


2. Lisbon-The Walkmen
I was a little late getting into this band, but am loving the amount of catching up I have to do. Lisbon is my second favorite, right behind You and Me. The horns kind of do this thing to me, gets me feeling sad and wishing I was a cowboy or something.

1. This is Happening-LCD Soundsystem.
Summer album full of earnest dancey pop and a lot of mumbling complaints. Maybe the last ever from this group I guess. At least it's a good way to go out. I definitely listened to this album the most this year, and will continue with it.


I liked the following albums, but not that much:
Age of Adz-Sufjan Stevens
Creulean-Baths
Cosmogramma-Flying Lotus
All Delighted People-Sufjan Stevens
Saturday Night-Friday Night (Serengeti)
Forgiveness Rock Record (Broken Social Scene)
IRM-Charlotte Gainsbourge
Only Built for Cuban Linx 2-Raekwon
Sir Luscious Leftfoot, Son of Chico Dusty-Big Boi
The Suburbs-Arcade Fire (I'll take the most heat for this from people.)

I played a little show at the art theater yesterday night between two movies they were showing. The set list was:
Man Says
Last Christmas
Brain cell Break
Hard to be a Gentleman

I hope to do more little things like this in the future. It was really weird. And fun. I feel like I need to work on my slower song repertoire though, it was a bit too active on my part and I felt it by the end of the night.

Well, I will do my top ten movies of 2010 later this week.
Calv
Posted by

Calvin Smooth
at 7:38 PM
2 comments:

Saturday, December 4, 2010
Gordon Gecko once said Greed is good. It is in ways. People look down greed in the Christmas season, which makes this a difficult blog to write, because I am going to get into all of the awesome things that have caught my eye this Christmas Season. Not that I think I will get any of these things from anybody, but its fun to ruminate on what looks awesome, even if its just daydreaming while at work and surfing on ebay for goods. So, these are the things that I think are the dopest Christmas gears this year around.
Oh, wait, before I get to that, I will give you a little gift. If you go to www.soundcloud.com/pop-gun-war/sets you can listen to my new-ish album that I made with Greg Santanna, and even download it for freee.. (shhhh). I've been gearing up to do some shows around Logan soon, and this will be some of the material I will be performing. So anyway, listen to it all, tell me what you think. It's about childhood and coming of age and loss of innocence…mostly.
It will be best to do this by category. Let's start with…..
Books:
The Accidental Billionaires. I have wanted to read this since seeing the Social Network. I thought the story was surprisingly intriguing. The book is written mostly using Saverin's input I guess, and I feel like he probably has a legitimate view of the rise of Zuckerburg. Anyways, this looks like something I could plow through.
An Object of Beauty. I read Steve Martin's "Born Standing Up" when it came out and thought he was a great writer. This is a work of fiction about the world of art collecting and supposedly is a very accurate depiction of the market over a period of time. I read a few pages of it at Borders the other day and was hooked, but had to put it down so I wouldn't buy it.
Roald Dahl Biography. This is a biography of my favourite author as a child, and it is the first authorized one. Although I have read his two autobiographies, Boy and Going Solo, and several other writings, I kind of crave an outsider's perspective, and the book is supposed to be pretty exhausting. This maybe tops my list of wanted books right now.
LIFE, Keith Richards. This is supposed to be juicy and kind of crazy. I am into rock autobiographies in general, and Keith Richards probably has more crazy stories than most. Good news is, my wife's mom works for the publisher, so I think it is on its way here right now!!! Perks of being married to Nat.
Bob Dylan's Writings Collection. This is a comprehensive book of his essays, some interviews, and musings. I thought Chronicles Volume One was fantastic. I think this is maybe the ultimate ultimate bathroom book. The reviews are good.
The Sacredness of Questioning Everything. A friend told me this book is important to read. If the book is as thought provoking as the title, I would probably agree.
Medium Raw. After listening to Anthony Bourdain on a podcast arguing with a vegetarian about the merits of eating meat, it made me want to get this book. I haven't read anything by him, or even really watched his show too much, but it made me happy that he claimed something like "vegetarians are a threat to our way of life". Of course, I have nothing really against people who don't eat meat and I'm sure he was speaking in the broadest hyperbole, but still…. Anyways, food has been becoming more interesting to me that last couple of years, especially its cultural implications. Natalie and I always talk about how it can be a real connector or divider, I think that is definitely a true statement.
Vinyl:
I always appreciate a good record to add to the collection. Here are a couple of things I kind of want to get my hands on.
Tom Waits: Orphans, Glitter and Doom, Nighthawks at the Diner. Orphans is a box set that came out last year. It's way too expensive, but I really like the scope and concept in the way he put together these songs. Glitter and Doom is a live record, I've heard some of it and Tom Waits still kills it live. NightHawks at the Diner is an old reissue, and it is coming out in this fancy red vinyl.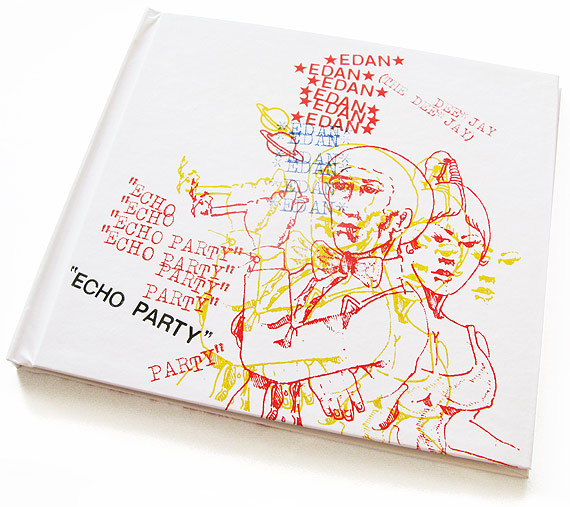 Echo Party: I don't even know if Edan is still selling these, but they are limited edition and all hand stamped. Probably the best dance mix ever.
Beauty and the Beat, Primitive Plus: This are two more Edan releases that I think are classics, but don't know if the vinyl is still available anywhere. I think discogs might have some used ones to sell.
The Walkmen: Lisbon, You and Me, Bows and Arrows, 100 Miles Off are all records I've recently become obsessed with.
Buck 65: Avant, The Distance, Albequerque. Buck 65 has been releasing little 4 song records this year in 4 installations. The first four are out. This makes a particularly good buy, each one is only like 6 bucks or so. He sells them over at Buck65.com.
DVD's
Here are some of the few DVD's I wouldn't mind owning, because I think they merit multiple viewings.
The Elephant Man: I have said for a long time that this is my favourite movie of all time. It's definitely still true. I think they have some sort of special edition released with new interviews and stuff, I wouldn't mind getting that sometime.
The Lost Tapes: This is a DVD that Buck 65 put out this year and has a lot of good performance footage, interviews, music videos, skits, etc.
Mad Men Seasons. For 10 bucks on Amazon, you could get somebody a full season of Mad Men. That is a great thing, especially if they need to get caught up on the best show on TV right now.
Of course another thing that is way too much, but the Seinfeld Box Set of seasons 1-9 seems like it would be an awesome gift for pretty much anybody.
Miscellany:
And finally, here are some of the random things I think are cool:
Capo/Guitar Picks/1/4" Music Cords: I need all of these and they make good stocking stuffers aye?
Korg Monotron: For 55 bucks or so, this makes a pretty affordable toy. It can do a bunch of stuff for such a little device. A friend of mine got one recently and made me jealous.
Handheld Digital Recorder: I am getting interested in doing a lot more field recording and this would be a great tool. Nothing super serious, but man, I think it would be great to do some interviews and record playing in odd places.
Chromatic Harmonica: I have wanted one of these things since I was like 10, but never ponied up to get one.
Numark TT200 Direct Drive Turntable: I have a Turntable that works okay right now, so this isn't number one on my priorities or anything, but man would it be great to have something I could do a bit more with and would give a bit better sound quality.
Okay enough of that. I'll write a better blog tomorrow to make up for this guilty pleasure.
Bye. Calvin
Posted by

Calvin Smooth
at 4:51 PM
2 comments: