Gordon Gecko once said Greed is good. It is in ways. People look down greed in the Christmas season, which makes this a difficult blog to write, because I am going to get into all of the awesome things that have caught my eye this Christmas Season. Not that I think I will get any of these things from anybody, but its fun to ruminate on what looks awesome, even if its just daydreaming while at work and surfing on ebay for goods. So, these are the things that I think are the dopest Christmas gears this year around.
Oh, wait, before I get to that, I will give you a little gift. If you go to www.soundcloud.com/pop-gun-war/sets you can listen to my new-ish album that I made with Greg Santanna, and even download it for freee.. (shhhh). I've been gearing up to do some shows around Logan soon, and this will be some of the material I will be performing. So anyway, listen to it all, tell me what you think. It's about childhood and coming of age and loss of innocence…mostly.
It will be best to do this by category. Let's start with…..
Books:
The Accidental Billionaires. I have wanted to read this since seeing the Social Network. I thought the story was surprisingly intriguing. The book is written mostly using Saverin's input I guess, and I feel like he probably has a legitimate view of the rise of Zuckerburg. Anyways, this looks like something I could plow through.
An Object of Beauty. I read Steve Martin's "Born Standing Up" when it came out and thought he was a great writer. This is a work of fiction about the world of art collecting and supposedly is a very accurate depiction of the market over a period of time. I read a few pages of it at Borders the other day and was hooked, but had to put it down so I wouldn't buy it.
Roald Dahl Biography. This is a biography of my favourite author as a child, and it is the first authorized one. Although I have read his two autobiographies, Boy and Going Solo, and several other writings, I kind of crave an outsider's perspective, and the book is supposed to be pretty exhausting. This maybe tops my list of wanted books right now.
LIFE, Keith Richards. This is supposed to be juicy and kind of crazy. I am into rock autobiographies in general, and Keith Richards probably has more crazy stories than most. Good news is, my wife's mom works for the publisher, so I think it is on its way here right now!!! Perks of being married to Nat.
Bob Dylan's Writings Collection. This is a comprehensive book of his essays, some interviews, and musings. I thought Chronicles Volume One was fantastic. I think this is maybe the ultimate ultimate bathroom book. The reviews are good.
The Sacredness of Questioning Everything. A friend told me this book is important to read. If the book is as thought provoking as the title, I would probably agree.
Medium Raw. After listening to Anthony Bourdain on a podcast arguing with a vegetarian about the merits of eating meat, it made me want to get this book. I haven't read anything by him, or even really watched his show too much, but it made me happy that he claimed something like "vegetarians are a threat to our way of life". Of course, I have nothing really against people who don't eat meat and I'm sure he was speaking in the broadest hyperbole, but still…. Anyways, food has been becoming more interesting to me that last couple of years, especially its cultural implications. Natalie and I always talk about how it can be a real connector or divider, I think that is definitely a true statement.
Vinyl:
I always appreciate a good record to add to the collection. Here are a couple of things I kind of want to get my hands on.
Tom Waits: Orphans, Glitter and Doom, Nighthawks at the Diner. Orphans is a box set that came out last year. It's way too expensive, but I really like the scope and concept in the way he put together these songs. Glitter and Doom is a live record, I've heard some of it and Tom Waits still kills it live. NightHawks at the Diner is an old reissue, and it is coming out in this fancy red vinyl.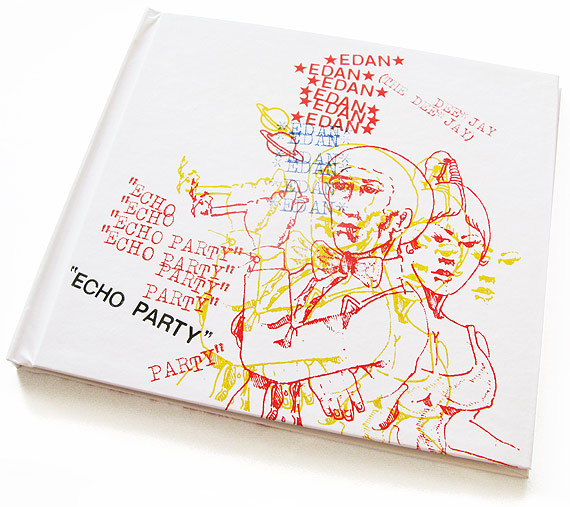 Echo Party: I don't even know if Edan is still selling these, but they are limited edition and all hand stamped. Probably the best dance mix ever.
Beauty and the Beat, Primitive Plus: This are two more Edan releases that I think are classics, but don't know if the vinyl is still available anywhere. I think discogs might have some used ones to sell.
The Walkmen: Lisbon, You and Me, Bows and Arrows, 100 Miles Off are all records I've recently become obsessed with.
Buck 65: Avant, The Distance, Albequerque. Buck 65 has been releasing little 4 song records this year in 4 installations. The first four are out. This makes a particularly good buy, each one is only like 6 bucks or so. He sells them over at Buck65.com.
DVD's
Here are some of the few DVD's I wouldn't mind owning, because I think they merit multiple viewings.
The Elephant Man: I have said for a long time that this is my favourite movie of all time. It's definitely still true. I think they have some sort of special edition released with new interviews and stuff, I wouldn't mind getting that sometime.
The Lost Tapes: This is a DVD that Buck 65 put out this year and has a lot of good performance footage, interviews, music videos, skits, etc.
Mad Men Seasons. For 10 bucks on Amazon, you could get somebody a full season of Mad Men. That is a great thing, especially if they need to get caught up on the best show on TV right now.
Of course another thing that is way too much, but the Seinfeld Box Set of seasons 1-9 seems like it would be an awesome gift for pretty much anybody.
Miscellany:
And finally, here are some of the random things I think are cool:
Capo/Guitar Picks/1/4" Music Cords: I need all of these and they make good stocking stuffers aye?
Korg Monotron: For 55 bucks or so, this makes a pretty affordable toy. It can do a bunch of stuff for such a little device. A friend of mine got one recently and made me jealous.
Handheld Digital Recorder: I am getting interested in doing a lot more field recording and this would be a great tool. Nothing super serious, but man, I think it would be great to do some interviews and record playing in odd places.
Chromatic Harmonica: I have wanted one of these things since I was like 10, but never ponied up to get one.
Numark TT200 Direct Drive Turntable: I have a Turntable that works okay right now, so this isn't number one on my priorities or anything, but man would it be great to have something I could do a bit more with and would give a bit better sound quality.
Okay enough of that. I'll write a better blog tomorrow to make up for this guilty pleasure.
Bye. Calvin