Hello loyal readers:
This weekend has been fun aside from having to put up with the shmoopiness of Dave and his fiance. (Shes been visiting this weekend from Rexburg and it was Valentines day, so extra blech!!) I survived...somehow, and now I use a suit that cryptobionically keeps my temperature at 0 degrees and is fueled by Diamonds. (Rita may be the only one to get that joke, sorry.)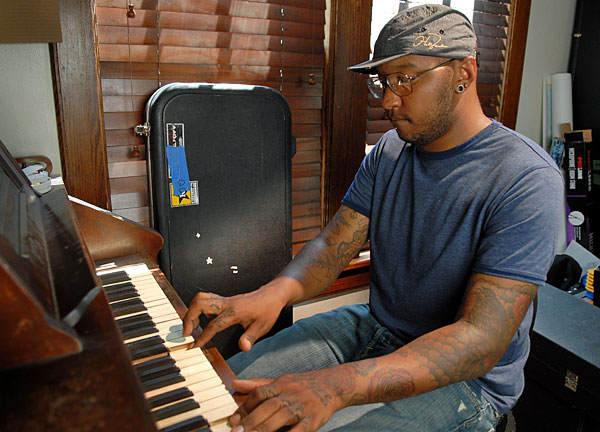 I did go to the P.O.S. concert at Kilby court on friday with some friends and we had a good time. It was a little crowded in the venue, but still entertaining and I bought some good records afterwards. The drive home was scary through the canyon but we made it, and then on Saturday it really dumped snow.
Saturday I did a show at Whysound with the Crooked Beats. I did about 40 minutes of my own stuff, it had been quite a while since I had performed that much on my own. It went really well and I think everyone enjoyed it. The setlist was as follows.
1. Kill Rockstars
2. Laughing with Mouth Closed
3. Pro-Politics
4. Smooth Spitz Game
5. Youngest Man on Earth
6. SummerSummerSummertime
7. Taxidermy
8. The Web Remixt
9. Man Says No
10. With the Birds
It was alot of fun to do the theatrics again. Here are some pictures of the event.
Today I have been just tidying up and getting ready for school again. Read a book for a class about Positive Leadership which really got me thinking about how I treat people that I don't need. I think it will take a concerted effort to impliment some of the things in the book but I think it will be worth it. I decided its goood to read some motivational material once in a while, as much as I loathe the idea of a "self-help" book. I am a fan of literature and history, but not so much inspirational or how-to books. Guess I need a balance.
We are playing on Thursday as armorie at 8. You should come.
I also bought some of this for the sandwhiches I pack for school lunch...and if you aint had it, your missing out.
I thought this was really really really funny. Its at the Jumbodome caught on camera during a sports game. I like this guy's enthusiasm. More people should get this excited about what they enjoy. Even if it is sports.
Seeya.